As the Internet continues to become our destination for completing daily tasks, companies are becoming more efficient by adopting online technologies. The veterinary industry in particular is evolving when it comes to improving the customer experience, but most practices are still hesitant to implement new software. Booking appointments, managing client records capturing demographics, and building relationships with clients have all become even faster and easier with the advancement of cloud-based platforms. Let's take a look at how the client booking and registration processes have transformed.
Telephones used to be the only way a client was able to reach a vet practice. This singular channel of communication often caused issues for practices trying to interact with their clients and schedule appointments. Trying to manage multiple phone calls at once often caused headaches for the staff and left clients frustrated when they were put on hold or sent to voicemail.
As technology evolved, email became a secondary form for clients to contact a clinic. This gave staff members and clients another way of communicating in case the phone lines were busy or the hospital was closed. Having a reachable email was certainly a step in the right direction, but practices were still not as efficient as they could be.
The next improvement after email was registering with the clinic and filling out forms online. With this method, clinics post a form on their websites that allows a client to enter their contact information online and select a preferred appointment time. This submission is then emailed to the practice where it sits in an unread queue until the staff sees it. Once the client's request has been seen, the staff manually puts the client's information into their practice management system and checks to see if that desired appointment time is open. A series of calls or emails ensues between the staff and client in order to finalize the appointment. Even though these advancements have made the scheduling process better, practices still spend countless hours every week going through this series of events.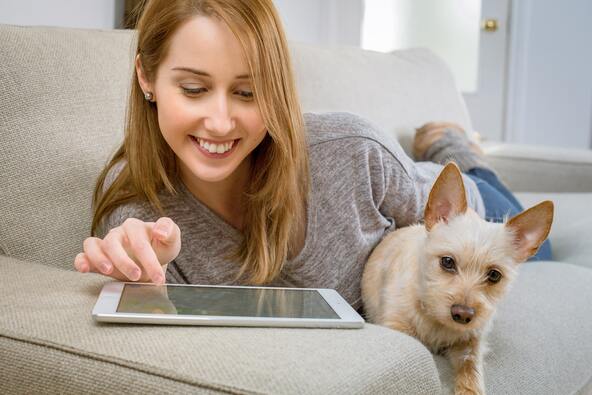 With all the enhancements to the Internet, pet owners have higher expectations for what they should be able to do online. More specifically, clients are looking for the fastest and easiest ways to solve their online needs while vet practices are looking to become as efficient as possible. The newest trends in the vet space aim to combine both customer and practice needs.
Introducing real-time booking for the veterinary industry. This new form of scheduling appointments allows clients to book an appointment directly through the practice's website without any consultation with staff members. Clients can choose from a list of available services and select which vet they want to see. From there, a list of open time slots will appear, enabling the clients to choose which day and time works best for them. Once selected, pet parents enter all the information the practice requires so the staff doesn't have to gather that over the phone or at the time of the visit.
While this is an extremely stress-free process for the client, let's look at how it also benefits the practice:
If a client gets sent to voicemail or has to wait a few hours to be contacted in response to an appointment request, he or she might look elsewhere for an appointment. The ability to immediately get an answer and an appointment with your hospital means more revenue for you. Instant gratification means a lot to online consumers, why not give your pet owners that same satisfaction when visiting your practice?
By automating the client intake process staff will reduce the time spent manually doing this. With Next In Line, when a client enters their pet's information on your website, it will automatically upload into your practice management system. Saving 5-10 minutes on each appointment adds up to many saved hours over the course of a year.
Build better relationships with clients and their pets
With fewer hours spent on client records and booking appointments, your staff can now spend even more time building rapport with clients. Imagine having more time to get to know the clients and patients in your lobby on a deeper level. Using Next In Line will free staff up to maximize the time spent during the client's visit, rather than having to use that time gathering demographic information and symptoms.
Refocus your staff's time on caring for your clients
Even though an appointment has finished does not mean the relationship with your care team has ended. Instead, with additional time, staff can make more post-appointment calls to clients to see how their pet is doing after the visit/procedure. This goes a long way in building positive relationships with your clients.
As the trend of real-time booking continues to grow in the veterinary space, practices that embrace this option will quickly gain an advantage over other clinics that haven't yet implemented it. Using Next In Line is the first step to improving your practice's efficiency and customer relations.
If you are ready to learn more or take that next step towards saving staff time contact us today to request a demo.