Providing high-quality care and maintaining a great customer experience has always been challenging. Various veterinary software have been improving over the years to make scheduling, billing, and analyzing easier. If you are looking for quality software but unsure what fits your needs, we prepared a list of convenient software for various audiences. Compare features, prices, and user reviews of each software to choose the best veterinary software for your practice.
List of top-ranked veterinary management software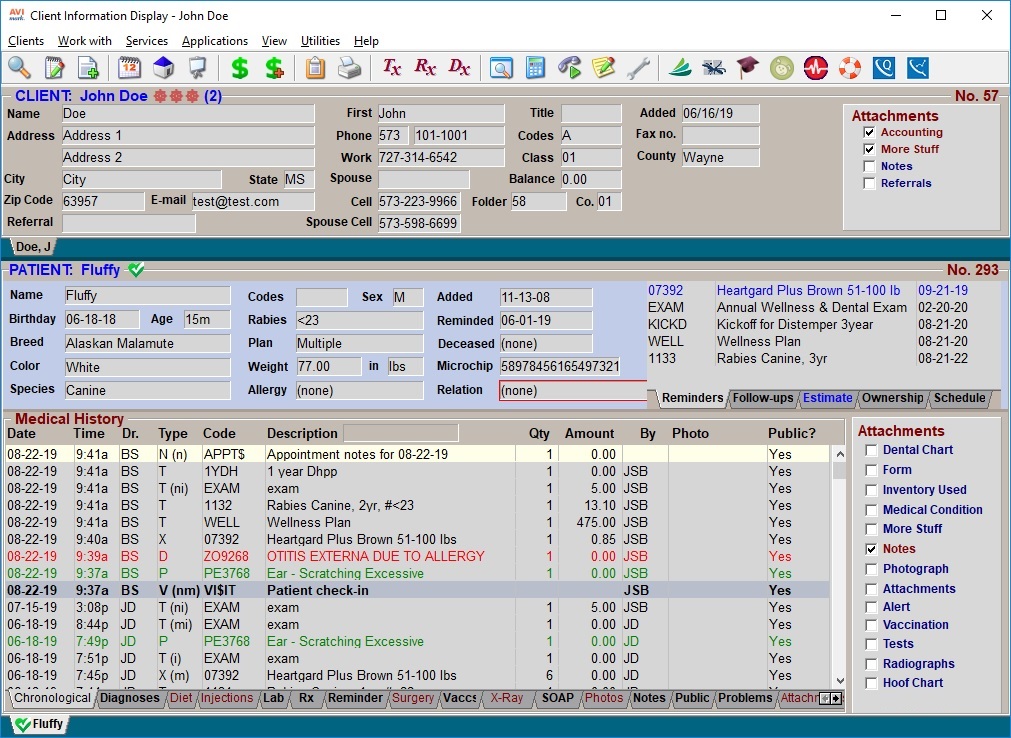 AviMark is a product of a global health animal service company called Covetrus that connects products, services, and technologies. AviMark operates in North America. The company dedicates its time to educate the reader, so if you have doubts about whether the software is for you, you may download a product or training brochure and watch a video guide on how to use the software.
Features: 
Diagnostics
Credit card processing
Automated texts
Email, voice messaging
Electronic medical records
Note glossary
Is this veterinary management software for you?
Covetrus claims that the product is easy to learn, which was confirmed by the customers. In case you experience any technical issues, customer support is available. Keep in mind that technical support is free for the first 30 days, and unlimited support can be purchased after the trial. You may consider choosing AviMark when switching software as they implemented new conversion technology that allows translating data from previous software to AviMark quickly. AviMark may also help to increase client retention due to the marketing campaigns they create.
Starting price: $169.00/month
User experience: AviMark is rated 5/5 by users. Based on the reviews, the price is justified and the software has become an easy and effective solution for various practices. Some customers ran into several issues with customer support and had difficulties merging accounts. However, it did not influence their overall experience, which makes AviMark a solution for someone who needs a smooth veterinary software transaction.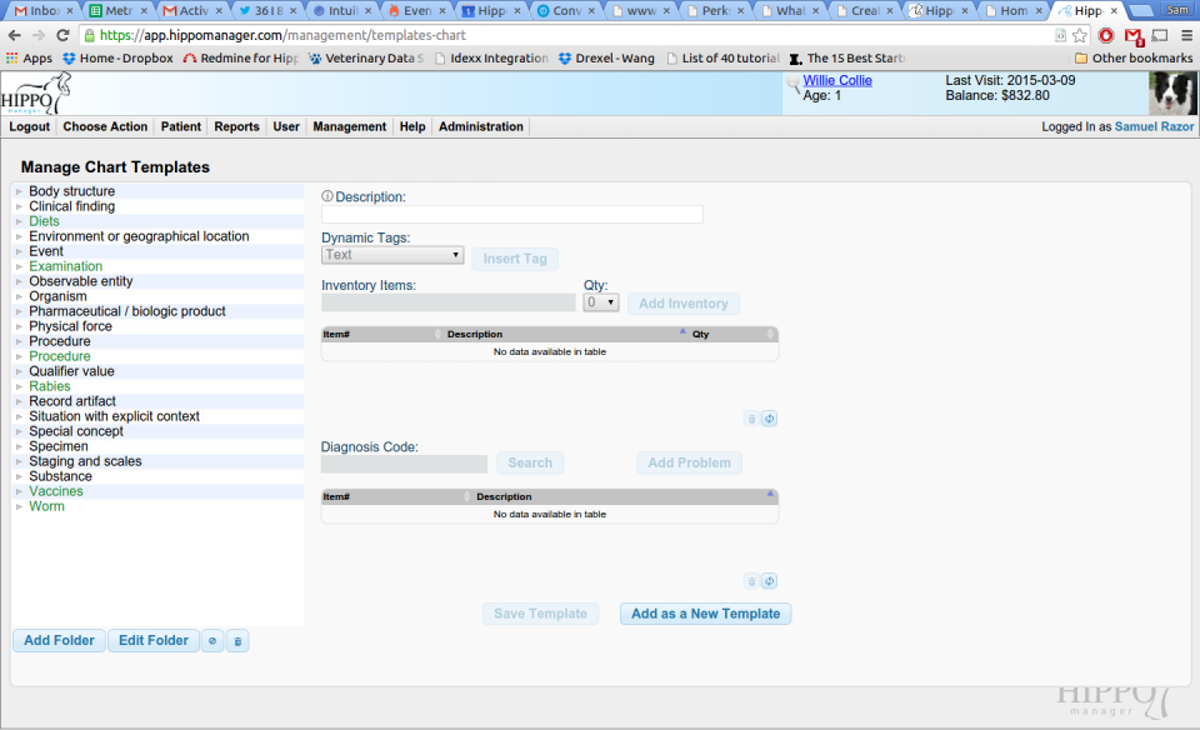 This cloud-based veterinary practice management software was founded in 2012. Hippo Manager provides various features for reliable and easy management. Customers can create invoices, process transactions, payments, manage discounts and coupons.
Features: 
Medical recording (SOAP note)
Built-in reminders
Lab integrations
Cash flow analysis tables
Numerous practice performance reports.
Is this veterinary management software for you? Hippo Manager can become a reliable solution for small-to-medium sized clinics or hospitals. The software is supported on any device, and it positions itself as "the most flexible and agile "software solution.
Starting Price: $80.00/month
User experience: An overall rating is 5/5. The software still has certain undeveloped features. Patient-based orientation is one of the primary cons users identify. However, the company keeps investigating each issue to find a solution.
The company's history started in 2010 when Dr. Tal Solomon ran a business using paper. Such management was insufficient and costly, which is why he partnered with Sagi to develop software to solve his existing issues. 10 years later, Vetter Software keeps developing and serving its primary goal of delivering efficient software that saves veterinarians time and helps to enhance business at the same time.
Features:
Electronic veterinary records
Custom form templates
Customer community
Client management
Is this veterinary management software for you?
Practices face a need to find an easy and intuitive management software that will help in a busy environment. Vetter Software aims to take care of the business part for practitioners so they can focus on providing care for the patients. Hence, the system they created is automated, easy to use and saves time for the users. The system automatically sends confirmation and reminders, which will be helpful for businesses that are focused on gaining more returning customers and building long-term relationships.
Starting price: $40 per month
User experience: A software score of 4.69/5; users predominantly identify minor flaws. According to the customers, you may find the financial system confusing even though it is automated. Despite this fact, Vetter Software helped many customers to run their business successfully and can help you to do the same.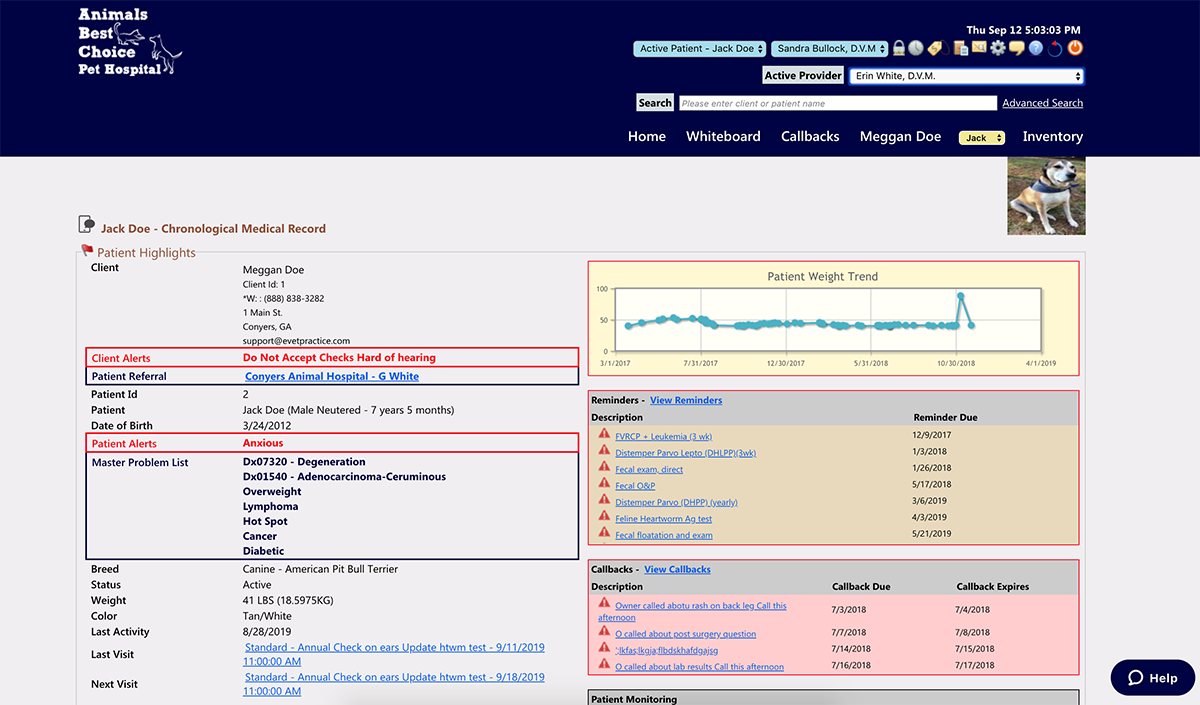 eVetPractice is an integrated veterinary management software from Covetrus. It became one of the leading platforms due to its cloud-based software that lets access all the features from any device in any place. Considering thoughtfully designed software and a client-orientated approach, eVetPractice is a decent alternative for software to use.
Features:
Practitioner Dashboard
Detailed reporting
Helpful integrations with ANTECH diagnostics and IDEXX
Is this veterinary management software for you?
The software will be beneficial if you aim to provide clients with advanced service. It has a portal that lets pet owners access payment history, appointments, and personal information. If you are unsure if the software will work, a 30-day risk-free trial is available.
Starting price: $100 per month.
User Experience: Evet practice receives an overall score of 5/5. Even though negative feedback takes place, customer support does their best to investigate an issue, provide timely feedback, or reply to an improvement proposal.
EzyVet was developed with the help of the world's leading veterinarians to provide efficient veterinary practice software. The team created a company in 2006 to satisfy the needs of veterinary software that would combine accessibility, rich features, and customization. Open source technology, which means that source code that the team developed was available for the public allowed to present an affordable product. They update their system every month automatically as they strive for improvement and excellence.
Features: 
Clinical Module, E-Mail, E-Faxing, & 2-Way SMS
Advanced Reporting
Smart Flow Integration
Integrated HELP Section
Multi Location Functionality
Is this veterinary management software for you?
Automation, design, and intuitive usage are the primary advantages of EzyVet. No server or backups required as the software is cloud-based. The veterinarian software will be an excellent fit for you if you appreciate customization as the software allows hiding or adding information if needed. The software can also help to save time as the system automated, including administrative tasks and billing capture. Technical support is available 24/7.
Starting price: $150.00/month
User experience: EzyVet scores 5 out of 5 due to the modernized platform, rich features, and excellent customer support. Undeveloped data conversion and too much clicking may leave the customer unsatisfied. Despite listed flaws, their service provides excellent support and functionality.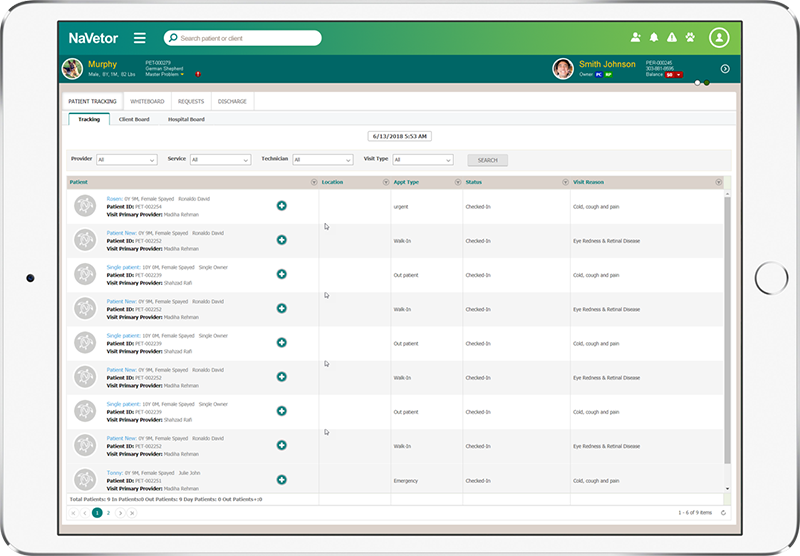 Modern cloud-based management software that was recently launched. They care about empowering veterinary businesses and aim to make an impact on the environment. That is why they are donating $35 of each purchase to rescue sea turtles that are in danger. Their personalized approach, ambitious views, and unique design will not leave you indifferent.
Features: 
Customized dashboards
Prescription management
Financial reports
Automatic charge capture,
Key performance indicators
Is this veterinary management software for you?
This veterinary software will be a perfect fit for owners who look not only for rich features but also care about style and design. The NaVetor presents an intuitive design that helps to streamline your work in a "natural" way. They use a personalized approach to each customer and provide an opportunity to request a demo.
Starting price: $129/month for 1-2 users.
User experience: The software does not yet have many reviews; however, the overall rating is 5/5 as their product develops and improves continuously.
Another cloud-based software platform aims to provide you with software that can be used with ease. You may request a consultation if you need additional information or figure out how to save 50% of your purchase in 2020.
Is this veterinary management software for you?
You will be able to automatically send the invoice amount to your payment terminal, which will transfer the information to the software, Idexx Neo claims to be the first software that provides such automation. The product will be the right solution if you want to have software that is easy to use as each step of the workflow is simplified.
Features: 
Integration streamline operations
Role-based dashboard
Integrated diagnostic ordering for IDEXX and Antech
One-click financing activity view
Starting price: $149.00/month
User experience: 4.1 out of 5 for the lack of reporting capability and some other features that require improvement. They launch various updates frequently to assure positive user experience.
ImproMed is another Covetrus product that is used by over 4,000 practices. This service, that offers "peace of mind for a client", will allow you to integrate your entire veterinary practice and manage it in one spot. Just like any other Covetrus' product, they provide brochures with additional information, videos, and training if you want to learn more.
Features:
Digital patient cases (allows invoices, treatment and medical record at one spot)
Treatment plans,
Enhanced reporting.
Is this veterinary management software for you?
They provide a wide variety of practice reports, as the veterinary software is built on Microsoft® SQL platform, which is the most powerful reporting platform. ImproMed also integrates with 50+ vendors so that you may choose them for laboratory diagnostics, digital imaging, accounting, online scheduling, and payment processing. It will be perfect for businesses that prefer planning ahead of time as ImproMed is ready to develop a personalized one-year plan with you. If a one-year program is not affordable, they provide an option for splitting up the payments.
Starting price: It depends on your needs. You may contact an expert to discuss the price.
User experience: Overall rating is 3.9 out of 5. Customers report issues with technical support, which can be a logical flaw in case you will require immediate assistance.
Cornerstone is a software, created by Idexx Laboratories that delivers integration with leading apps, services, and products. Services improve due to the constant work with the customer's queries and continuing updates. Flexible payment options and advanced integration makes the software worth consideration.
Features:
Diagnostic integration
Compliance assessment
Whiteboard
Reporting
EMR
Is this veterinary management software for you?
The software provides many ways to get the same result, which can complicate the training process. This product will not work for you if you want to be able to complete the training quickly. However, it will work great if you have been looking for robust options and features, along with the customer support that is ready to assist you 24/7.
Starting price: Not provided by the vendor. You may leave contact information to get a consultation.
User Experience: An overall rating is 4.1 out of 5. The ease of use is 3.8 out of 5 as users report usage complications in the beginning. Functionality is not well-developed for some of the features. However, the software can be used for various purposes, which leaves the user with a positive overall experience.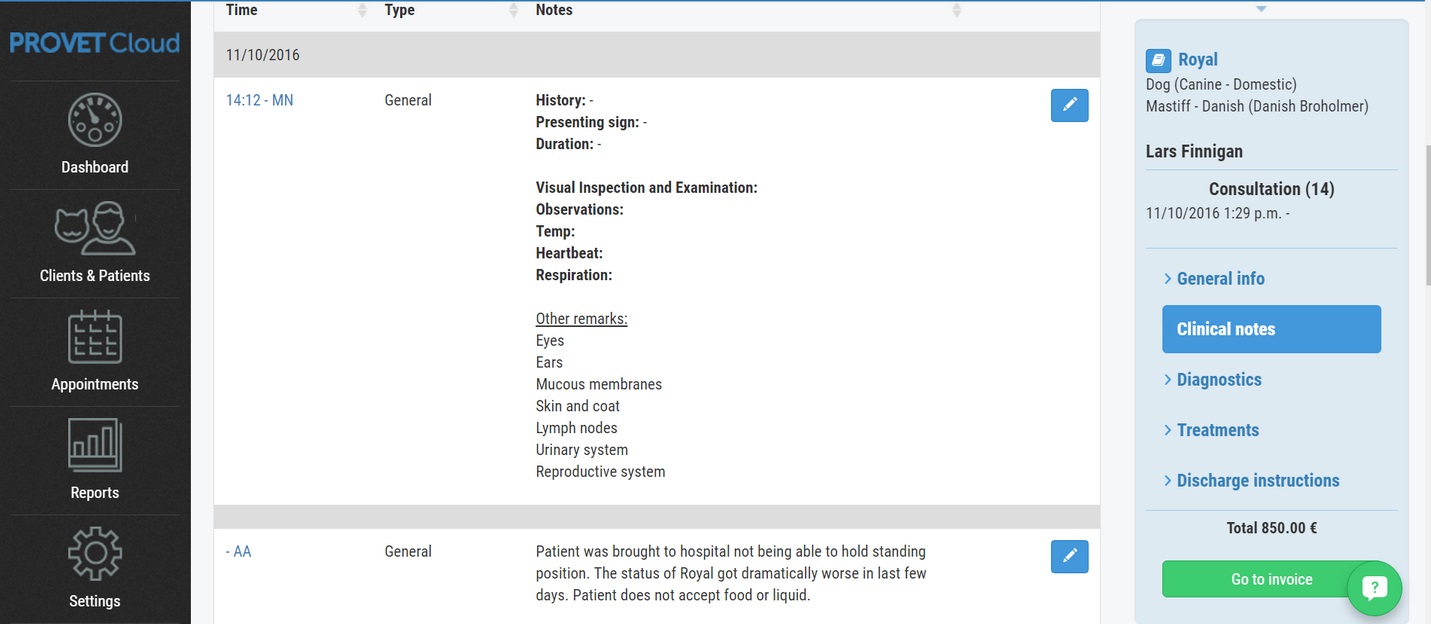 Provet is a simple cloud-based veterinary management system that can help vets in all sectors of the veterinary profession, including university hospitals and equine vets. You can try the software for a month and find out if it will benefit your practice.
Features:
Client communication
Stock management
Patient and client record
Management reports
Online booking
Is this veterinary management software for you?
It provides immediate access and requires no extra installations, which can become a reliable solution for your practice if you need a simple but yet efficient management solution.
Starting price: Not provided by the vendor. You may contact the sales team to find out the prices for various packages.
User experience: Provet scores 4.2 out of 5 for its user-friendly interface and easy access. Users find some small cons, such as the absence of clarity in search function or inability to switch currencies at the invoice levels. Customer support investigates every inquiry the customer has, which makes them able to maintain a positive user experience.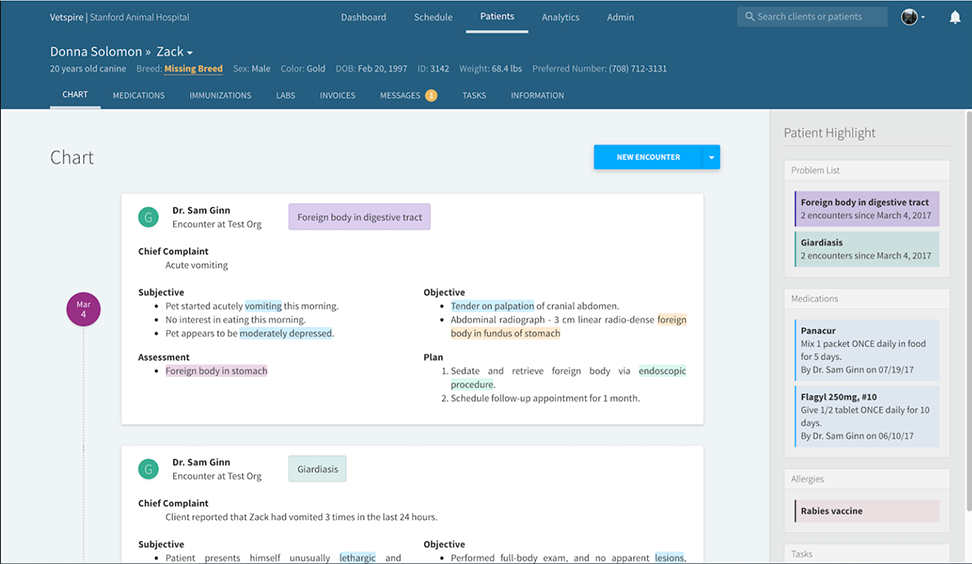 Vetspire is a platform powered by artificial intelligence. They focus on providing improved delivery of patient care while crafting an efficient management platform. Vetspire partnering with veterinary researchers to better predict treatment, analyze outcomes and provide evidence-based data.
Features:
Seamless client communications
State-of-the-art AI technology
Practice management
Real-time analytics
Automatic scheduling
Is this veterinary management software for you?
Artificial intelligence assists with every step while you are writing medical notes. That saves lots of time and helps veterinarians to make the job easier. The software is a reliable solution if you want to support innovations and use an automated service in your practice.
Starting price: You may leave your personal information and specialist will get in touch with you.
User experience: Users have not left any reviews at this time.
Conclusion
Veterinary management software companies have become more efficient and keep launching various updates to satisfy customers. They help make performance even more comfortable and practical by automating or customizing various processes. While making a decision can be complicated, try to concentrate on your business needs. A company's background, unique features, and reviews will give you a better understanding of what can satisfy your needs and help you get the most out of your software.